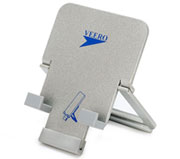 FOLDABLE MOBILE PHONE STAND
Foldable mobile phone stand is compatible with all mobile phones (all size), eBook readers and most tablets (up to 7 inch) even with the heavy duty case on, very stable for iPad mini, iPad Air and iPad Pro 7 inch. Made with Aluminium alloy sheet of 3.00 mm thick for lightweight and portable. This mobile phone stand have silicon rubber gasket at the bottom of the stand to avoid slipping over surfaces. The design also includes slip-resistant rubber pads, which help protect your phone and keep it in place, even when making touch-screen selections.
Interested in working with Veer O Metals?