METAL 3D PRINTING & ITS IMPACT ON THE ENVIRONMENT
---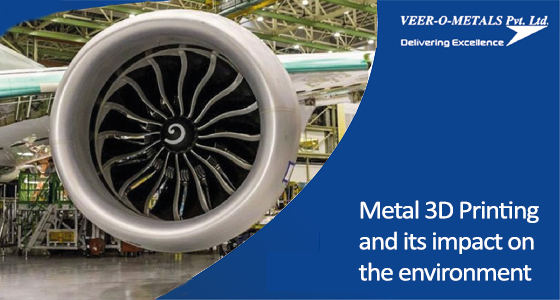 ---
What is Metal Additive Manufacturing or Metal 3D Printing?
Metal Additive Manufacturing or Metal 3D Printing is Production of 3D Parts Layer by Layer from a metal Material.
The Additive manufacturing Process involves uploading your Computer-Aided-Design (CAD) designs directly to 3D Printer to deposit material, layer upon layer, in precise geometric shapes creating the desired Metal 3D model.
This technology makes it possible for manufacturers to produce complex metal parts without any design constraints of traditional manufacturing. There are numerous benefits of 3D printing over Traditional Manufacturing as it results in elimination of Tooling and Fixture Costs and complex parts can be corrected and printed quickly.
Is it Sustainable?
In order to understand Metal 3D printing and its impact on the environment we need to measure the energy consumption and CO2 emission of Metal 3D Printing.
In case of direct manufacturing, Metal Additive manufacturing has a higher carbon footprint for per kg of material processed, than its conventional counterparts as it offers a greater degree of design freedom, lighter parts, cost-effective production, assembly consolidation etc.
The environmental impact of machining a solid cube would be lower than additively manufacturing it, while using metal additive manufacturing to produce a hollow shell or lattice structure would have a lower impact than machining.
Metal Additive manufacturing presents a more sustainable course for manufacturing finished precision components if we consider product life cycle processes such as raw material extraction, gas atomization, and logistics, which undoubtedly have major impacts on the resulting carbon footprint.
There are various studies, which outline environmental impacts of Metal Additive manufacturing with conventional manufacturing methods. Some of the observations are as follows:
• Metal Additive Manufacturing has lower manufacturing impacts than machining especially for environmentally impactful materials like titanium and saves significant material mass.
• For aerospace applications, lightweight Metal Additive Manufactured parts saved so much fuel during flight lifetimes that they were a net environmental benefit over conventionally manufactured parts.
Environmental Impact
In order to compare Additive Manufacturing and Conventional Manufacturing like CNC Machining with respect to their environmental impact we must consider the whole manufacturing lifecycle.
This will include all the steps from mining material to primary metal production, feedstock manufacturing, printing, post-processing, and any material recycling along the way
Let us analyze the energy consumption at each of the above process steps for titanium and tool steel, two of the most widely used metals in AM.
• Mining and Primary Metal Production
The feedstocks used in AM and Machining both involve the same initial process: ore is mined and processed, and then the metal is alloyed and cast into an ingot. Titanium requires an exceptionally large amount of energy to process, almost 10 times that of steel.


• Feedstock Manufacturing
The wire drawing process is slightly more efficient than the gas atomization of powders, with higher yield.


• Printing Process
The material waste in machining is represented by the buy-to-fly ratio. Calculation of the material waste in Metal Additive Manufacturing is more complex. There are two main contributors:

1. Printed material waste
a. Near-net-shape expansion
b. Support structures that will be removed in finish machining (post-processing)
2. Un-Printed material waste
a. Any material used in printing that does not go into the part but cannot be reused.

Manufacturing Titanium parts using CNC consumes 4–6x more energy than Metal Additive manufacturing.


Observations
• Metal Additive Manufacturing offers an opportunity to reduce material and energy consumption for manufacturing processes that involve a lot of material waste like machining
• There is a large variance in energy efficiency among Metal Additive manufacturing processes due to the amount of material consumed and the printing process.
• Wire DED and Laser Powder Bed processes are relatively energy intensive but still offer advantages Vs. CNC for high buy-to-fly parts. Businesses have to carefully analyse the energy consumption and environmental emissions data in combination with many other factors to make the best supply chain decisions.
There are many companies in India offering Additive Manufacturing solutions across all Industries. Veero Metals is one of the Leading Metal Additive Manufacturing company In India offering complete Metal 3D Printing Solution across Industries namely Defense, Aero Space, Automotive, Oil and Gas, Product Development etc..
Veero Metals was established in 1965 and has augmented cutting edge manufacturing technology in the field of metal Metal Additive manufacturing.
As an organization Veero holds equal responsibility in meeting the industry standards, which keep us abreast of all the mandatory certifications, needed for a healthy sustenance. Veero has obtained the below certifications to meet the standards.
• ISO-45001:2018
• EN 15085 LL-C (Certification)
• AS 9100D: Certified ISO 9001
• ISO 14001: 2015
• ISO 9001: 2015
• Certified IATF 16949: 2016
You can call us at +91- 9739991967 or contact us at sales@veerometals.com or visit www.veerometals.com for all your Additive Manufacturing requirements.
Interested in working with Veer-O-Metals?