METAL 3D PRINTING & ITS BENEFITS ACROSS INDUSTRIES
---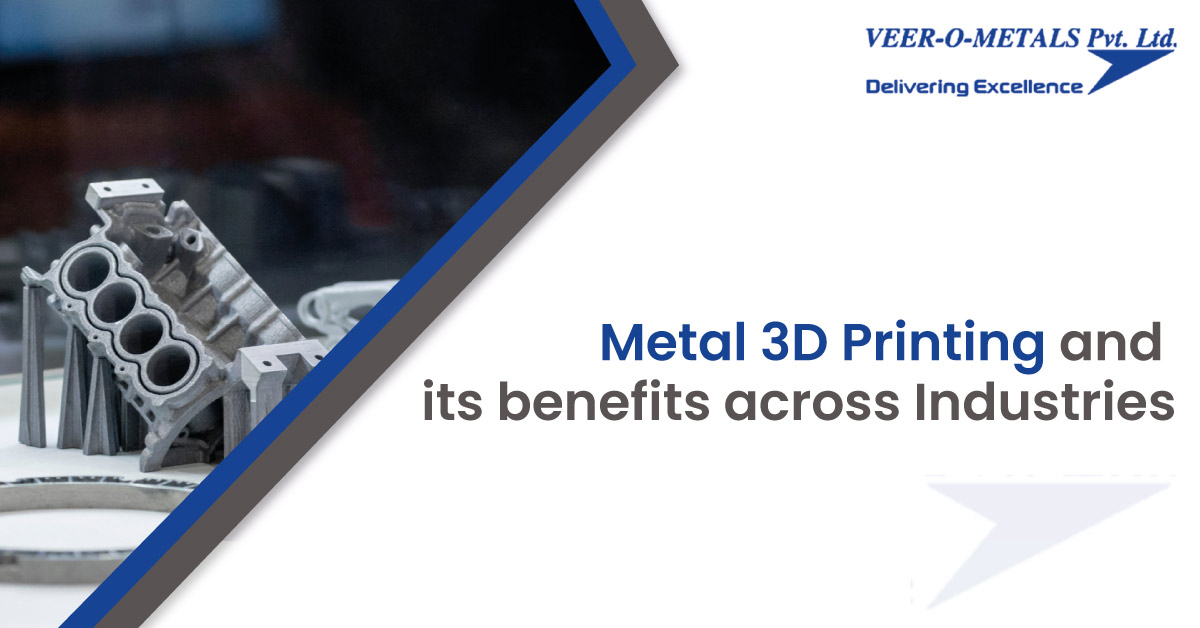 ---
What is Metal 3D Printing and Additive Manufacturing?
Metal 3D Printing and Additive Manufacturing refer to the same process and are interchangeable terms.
3D Printing is a technology where design files (CAD Models) of the Metal Part to be manufactured is sent to the 3D printer, which prints functional 3D models layer by layer from the metal material. Thus 3D printing is used to manufacturing objects (Parts, Prototypes, tools & even assemblies) directly from their CAD models without any cutter, tools and jigs & fixtures.
The 3D printing Manufacturing Technique also involves using 3D object scanners to scan the object and then direct 3D Printer to deposit material, layer upon layer creating the metal 3D Model.
3D Printing Raw Material
It is possible to manufacture objects using a variety of materials including Plastic, Metal or Glass etc. Metal 3D Printing is commonly referred to manufacturing of Metal Parts using 3D Technology. The most common Metal Additive Manufacturing Materials are namely Aluminum Alloy - AISi10Mg, PH1, GP1 and CX, Inconel 625 and HX, Super/ Nickel Alloy - Inconel 718, Stainless Steel - SS316L , Cobalt Chrome- MP1, Maraging Steel- MS1, Copper- CU, Titanium - Ti6AI4V and Ti6AI4V ELI etc.
Benefits of Metal 3D Printing
There are numerous benefits of Metal 3D Printing namely:
• Design Flexibility and Faster Product Development
• Print Complex Designs
• No Tool or Mould Changes results in Faster Prototyping
• Resource Efficient as Material wastage is minimal
• Economic Low Volume Production
• Cost Reduction by Creating Complex Parts reducing the number of components
• Manufacture On - Demand Simplyfing Supply Chain
Advantages of 3D printers
The main advantage of 3D printers is ease of Portability to the Manufacturing site for On-Site Manufacturing.
Benefits of Metal 3D Printing in Manufacturing and other Industries
• Quick Creation of Metal 3D Printed Tools, Jigs & Fixtures
• Reduced Variation during Fitting & Assembly
• Streamlining of Production Processes
• On Demand Tooling
Benefits of Metal 3D Printing in Product Development
• Quick Evaluation of Designs
• Functional Prototypes to test Usability
• Quick Feedback from Target Market
• Shorten Time to Market
Benefits of Metal 3D Printing in Conformal Cooling Industry
• Cost Reduction due to Lower Cycle Times
• Reduction in Part Shrinkage and warpage
• Parts Consolidation in Mold building
Benefits of 3D Printing in Reverse Engineering
• Digitise Parts into Precise 3D Models
• Quick evaluation & Testing to Shorten the Product Development Stage
• Faster Production
Benefits of 3D Printing in Spare Parts Industry
• Digital Inventory - Part Production directly from the design file
• Manufacture Parts on Demand
• Decrease Inventory Storage Space & Cost
Benefits of 3D Printing in Robotic Industry
• Create Parts without molds & Design Unique Geometries
• Quickly determine the best Product Design
• Optimise Overall Design using fewer and Lighter Parts
• Minimize Production Time
Metal 3D Printing Post processing
Post Processing is a surface finish technique with series of secondary process required to meet dimensional, mechanical, aesthetics & other properties.
Metal 3D Metal Printing Machine
Nabertherm NW300 – Germany, is a radiant heating furnace that ranges up to 1100 degree celsius, with gas box for more accurate atmospheric exchange with an inbuilt software controlled system.
Inner Dimensions : 450mm x 550mm x 550mm
Metal 3D Printer Price in India
Metal 3D Printers prices mostly range from $80K to $1M and more.
Metal 3D Printing Services in India
There are many companies in India offering Metal 3D Printing services across all Industries. Veero Metals is one of the Leading Metal 3D Printing company In India offering complete Metal 3D Printing Solutions across Industries namely Aero Space, Defense, Automotive, Heat Sink, Oil and Gas, Product Development, Conformal Cooling, Medical, Digital Inventory etc..
Veero Metals was established in 1965 in Bangalore and has augmented cutting edge manufacturing technology in the field of metal additive manufacturing or Metal 3D printing.
As an organization Veero holds equal responsibility in meeting the industry standards and has obtained the below certifications to meet the standards.
• ISO-45001:2018
• EN 15085 LL-C (Certification)
• AS 9100D: Certified ISO 9001
• ISO 14001: 2015
• ISO 9001: 2015
• Certified IATF 16949: 2016
You can call us at +91- 9739991967 or contact us at sales@veerometals.com or visit www.veerometals.com for all you Additive Manufacturing requirements.
Interested in working with Veer-O-Metals?