BENEFITS OF USING METAL 3D PRINTING FOR RAPID PROTOTYPES
---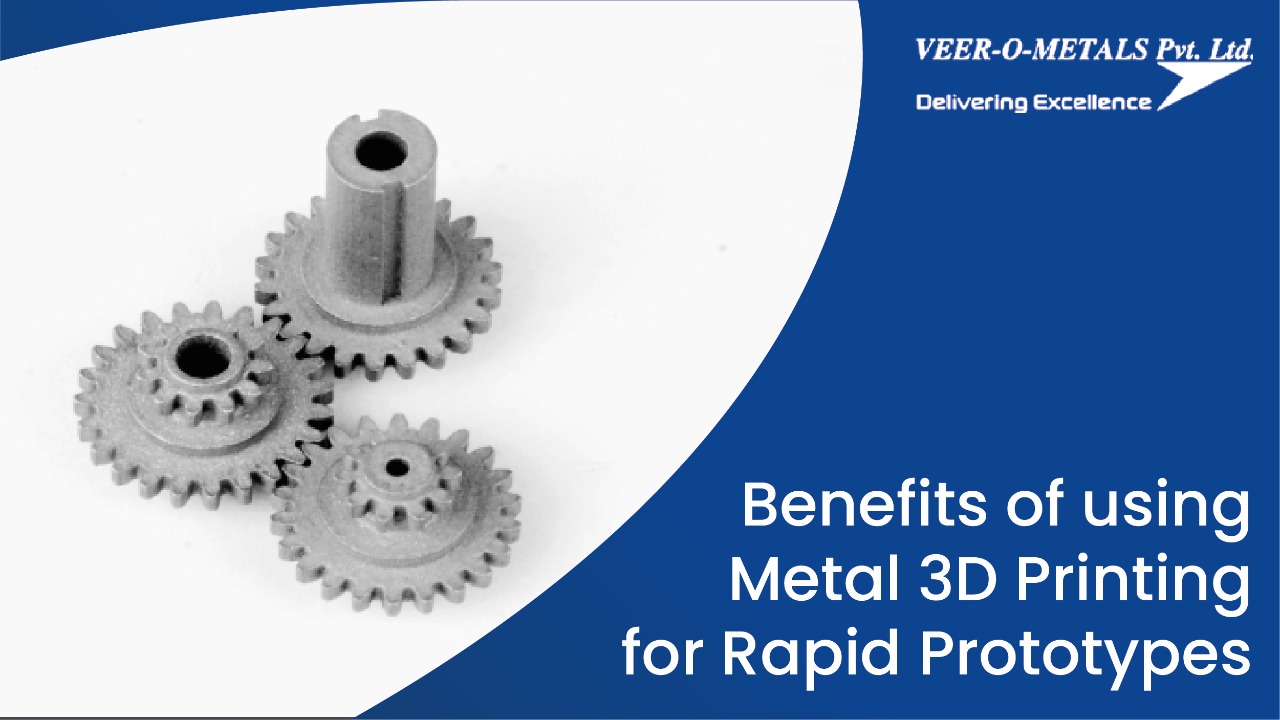 ---
What is Prototyping?
Prototyping allows you to test the features of the designed component before sending it for manufacturing.
There are many ways to prototype a metal component namely:
• 3D printing
• Sheet metal fabrication
• CNC machining
• Extrusion
• Casting
What is Rapid Prototyping?
Rapid prototyping refers to the cycle of quickly iterating to reach a final design. The Rapid Prototyping Cycle Stages include Prototype, Review, Refine & Iterate and delivery to the customer.
Traditionally, each physical prototype requires a new design to be outsourced to a manufacturer who creates the part using milling, cutting or molding/casting processes.
The Metal Parts are then reviewed, refined and iterated multiple times involving tooling and/or shipping costs till they are suitable for delivery to the customer.
What is Metal 3D Printing?
The Metal 3D Printing Process involves uploading your Computer-Aided- Design (CAD) designs directly to 3D Printer to deposit material, layer upon layer, in precise geometric shapes creating the desired Metal 3D model.
Advantages of Using Metal 3D Printing
Metal 3D printing reduces the number of Iterations as the feedback of the part created can be translated immediately to an updated design file that can in turn be 3D printed quickly in just a few hours.
This technology makes it possible for manufacturers to produce complex metal parts without any design constraints of traditional manufacturing as complex parts can be corrected and printed quickly sometimes in the same day as against long waiting time between iterations.
Metal 3D metal printing prototyping has many advantages over other types of manufacturing namely:
• Eliminate Tooling and Fixture Costs Metal Parts created by traditional manufacturing processes like casting and forging can take weeks or months with repeated refining, reviewing and iterating stages before delivering the prototype to the customer. With additive manufacturing prototyping, parts can be made in a matter of days.


• Design Flexibility - Use Smarter Design Geometries Complex Parts can be designed using Metal 3D printing to reduce overall components to evaluate and Produce faster


• Quick Evaluation of Designs The feedback of the part created can be corrected in the design file that can be uploaded and 3D printed quickly in just a few hours.


• Rapid Prototyping High Quality, consistent parts can be produced on site quickly


• Lower Costs: Metal 3D printers require less attention during production, so operators are not required to be present throughout the printing process saving time and money. 3D metal printers start printing from scratch rather than subtracting from a larger sheet or slab reducing the material cost too.


• Shorten Time to Market The time taken from a concept to deliverable stage should be as short as possible. Metal 3D printing allows us to Design, Evaluate and Produce Complex Parts faster decreasing the time taken from idea to market.
There are many companies in India offering Metal 3D Printing Solutions or Additive Manufacturing solutions across all Industries. Veero Metals is one of the Leading Metal Additive Manufacturing company In India offering complete Metal 3D Printing Solution across Industries namely Aero Space, Defense, Automotive, Oil and Gas etc..
Veero Metals was established in 1965 and has augmented cutting edge manufacturing technology in the field of Metal Additive Manufacturing which is an automatic process of manufacturing objects directly from their CAD models without any cutter, tools and jigs & fixtures.
As an organization Veero holds equal responsibility in meeting the industry standards, which keep us abreast of all the mandatory certifications, needed for a healthy sustenance. Veero has obtained the below certifications to meet the standards.
• ISO-45001:2018
• EN 15085 LL-C (Certification)
• AS 9100D: Certified ISO 9001
• ISO 14001: 2015
• ISO 9001: 2015
• Certified IATF 16949: 2016
You can call us at +91- 9739991967 or contact us at sales@veerometals.com or visit www.veerometals.com for all you Additive Manufacturing requirements.
Interested in working with Veer-O-Metals?